Enroll Now - Course Begin March 10th
An exclusive group of individuals who are all bonded with their passion for Jesus Christ and a desire to develop a lifestyle of health and well-being empowered by their faith and proven principles.
This unique party of women and men work with Christian Life Coach and Bestselling Author, Susan Gregory, to dig deep into their experiences and challenges to uncover what's kept them from succeeding when it comes to overcoming cravings, over-consumption of food, and gaining weight.
The series of six interviews and exchanges take place in a safe place where individuals "bare their souls" as we prayerfully seek God's direction and His answers. Each live discover call is followed be a new comprehensive lesson that members can use to learn and develop action plans for their success.
Course Content:
Six weekly LIVE Discovery calls - each week members join Susan Gregory for a guided and open discussion about the challenges they experience that keep them from staying stuck and feeling like failures because of their weight.
All Discover Calls are recorded for later replay if you miss the live call or want to listen again.
Group coaching and training with a high degree of interaction.
Assignments,projects, worksheets and other tools to foster engagement, participation, and growth.
Private Facebook Group where only Inner Circle members gather in community to exchange ideas, solutions, challenges, and successes stories.
Plus, all the bonuses listed below!
Bonuses:
Inner Circle Members are all enrolled in the Choose Life Now 90-Day Challenge to get started with practical activities and profound and proven lessons. Valued at $90
Inner Circle Members also receive the all new Choose Life Now 3.0 course that will be created as we learn together and develop solutions, so they can become successful to lose the unwanted pounds and gain health, vitality, and confidence. Valued at $127
Along with participating in the Choose Life Now Inner Circle Club, which is limited to 100 members. Valued at $97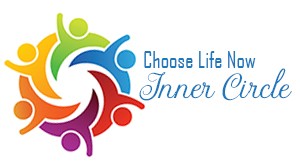 All the above is a valued at $314. For a limited time, you can join us for just $90 for an all-inclusive membership!